High Frequency Mobile DR digital radiography medical x-ray equipment
Hospital Medical Digital Flat Panel Mobile 32kw X-ray Unit/52KW X Ray unit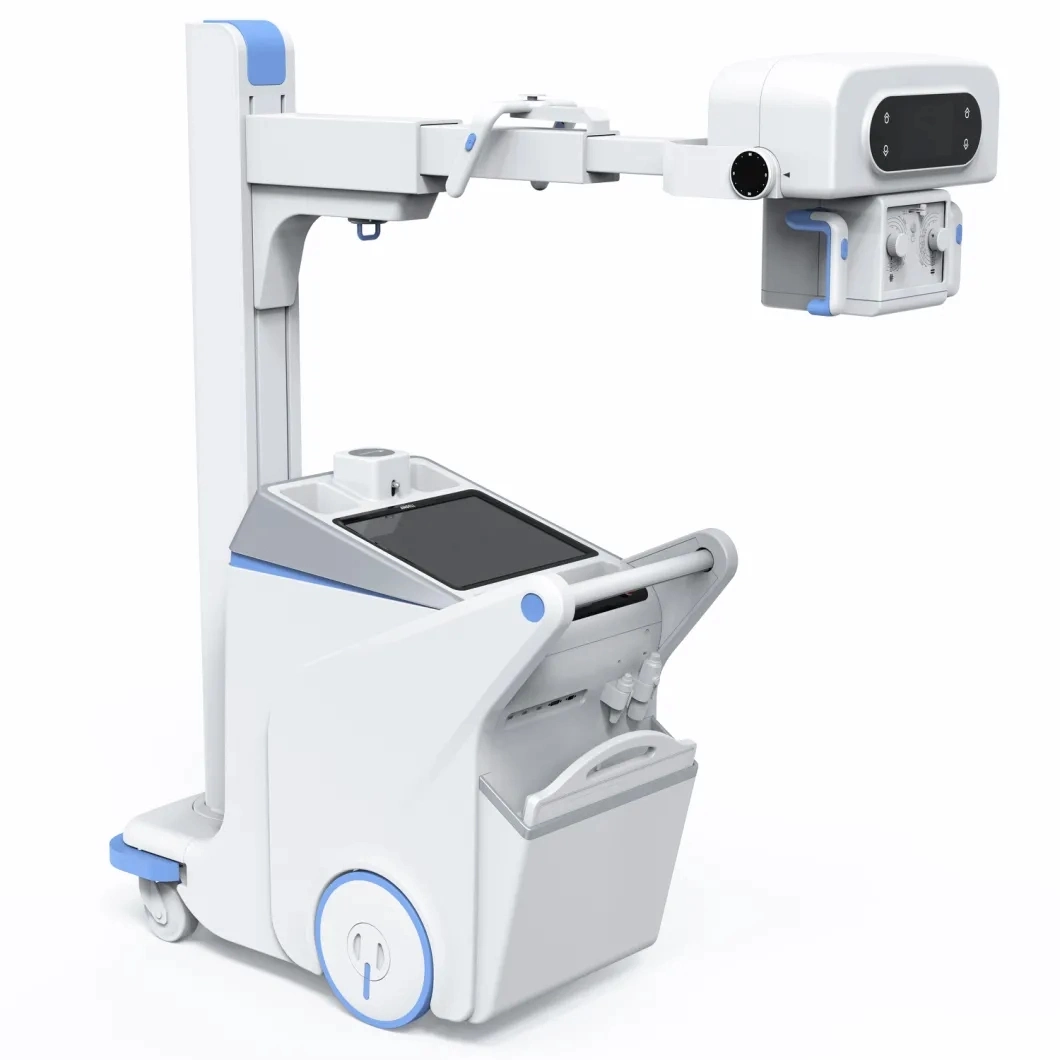 Flat Panel Detector
Specifications
• Detector technology: Wireless a-Si Flat Panel Detector
• Scintillator material: CsI
• Images size: 350mm x 430mm
• Static pixel matrix: 2500 x 3052pixels
• Effective pixels: 7.60million
• Pixel size: 140μm
• Spatial resolution: 3.5lp/mm
• Output grayscale: 16bit
• Acquisition time: ≤7s
High Frequency Generator
Specifications
• Nominal output power: 32kW
• Max output power: 40kW
• Frequency: 50kHz/60kHz±1Hz
• kV range: 40~150kV, 1kV step
• mA range: 50-400mA
• mAs range: 1~630mAs
• Input power: 220V
X-ray tube
Specifications
• Focus: 0.6/1.2mm
• Voltage: 150kV
• Anode type: Rotating
• Anode heat capacity: 300kHU
• Anode angle: 12°
Mobile Stand
Specifications
• The Vertical Movement Range of X-ray Tube Center along the Column: 580~1800mm
• The Telescopic Movement Range of X-ray Tube Center along the Column Side:
720~1220mm
• Stand Column Horizontal Rotation Range: ±315°
• Collimator Rotation Range along the vertical axis: ±90°
• Mobile Stand Size: 1230 × 580 × 1820 mm
Collimator
Specifications
• Control: Manual
• Filter: 1.2mm Al
• Light: LED lamp
DX Ray Diagnostic Workstation
Specifications
• Display size: 19inch
• Pixel matrix: 1280 x 1024pixels
• Patient Management: manual registration, WORKLIST automatic query.
• Image Acquisition: automatic window adjustment, automatic cropping, automatic transmission.
• Image Processing: image correction, image flipping.
• Image Observation: window width window level adjustment, image flipping, image rotation, image scaling, and restoration.
• Medical Record Report: automatic loading of patient information
• Film Printing: support DICOM3.0 standard laser camera printing.
• DICOM Transfer: send images to any PACS and workstation that complies with the DICOM 3.0 standard.
Other features
Dose control mode
• APR (Anatomically Programmed Radiography) mode
• Manually setting the exposure mode
Mobility performance
• Electrically assisted drive and has brake equipment
• Support switch to manual mode without power
• Slope assist system, maximum movement slope: ≤8 °
Collision resistance
• Collimator protector against human collision
• Braking function for moving object collision
• Slope assist system, maximum movement slope: ≤8 °
Interactive system
• Time-lapse exposure function
• Remote visual observation system and intercom system
Power management system
• Battery power display device
• Independent control system for power assist and high frequency generator exposure output
• Quick charging mode
• Power intelligent management system: computer sleep, high frequency generator sleep mode
• Intelligent power switching function: support exposure during charging



Specification and Features

Generator

Norminal power

32kW

Maximum power

40kW

Kvp range

40-150kV

Current range

10-400mA

Current time

0.1-500mAs

Inverter frequency

40kHz




X-ray Tube




Toshiba E7843X

Focal spot

0.6mm/1.2mm

Maximum input power

20kW/46kW

Maximum input current

370mA/760mA

Anode type

Rotating anode

Anode thermal capacity

150kHU

Anode rotational speed

3200r/min

Target angle

12°




Collimator

Inherent filtration

1.2 mm Al /70kV

Rotation degree

±90°
Detector I




Varian 4336R

(wired)

X-ray sensitive area

42.4cm×35.3cm

Pixel size

139μm

DQE

70%±5%(0 lp/mm, RQA5)

Pixel matrix

3072×2476

Limiting resolution

3.6 lp/mm

Cycle time

10s

A/D conversion

14bit

Image preview

≤6s

Detector




Thales 3543EZ

(wireless)

X-ray sensitive area

43cm×35cm

Pixel size

148μm

DQE

66%(0 lp/mm, RQA5)

Pixel matrix

2880×2400

Limiting resolution

3.4 lp/mm

Cycle time

10s

A/D conversion

16bit

Image preview

≤3s

Detector




Thales 2430EZ




(Mini panel, wireless)

X-ray sensitive area

30cm×24cm

Pixel size

148μm

DQE

70%±5%(0 lp/mm, RQA5)

Pixel matrix

2000×1600

Limiting resolution

3.4 lp/mm

Cycle time

10s

A/D conversion

16bit

Image preview

≤1s

Detector




Iray 1417P(wired)

X-ray sensitive area

42cm×35cm

Pixel size

150μm

DQE

Pixel matrix

2800×2300

Limiting resolution

3.3 lp/mm

Cycle time

9s

A/D conversion

14bit

Image preview

≤7s

Detector




Iray 1417V(wireless)

X-ray sensitive area

42cm×35cm

Pixel size

150μm

DQE

Pixel matrix

2880×2400

Limiting resolution

3.4 lp/mm

Cycle time

9s

A/D conversion

14bit

Image preview

≤7s

Detector




PerkinElmer Xrpad 4336MED(wireless)

X-ray sensitive area

43.0cm×35.5cm

Pixel size

100μm

DQE

75%(0 lp/mm, RQA5)

Pixel matrix

4320×3556

Limiting resolution

5.0 lp/mm

Cycle time

9s

A/D conversion

16bit

Image preview

≤6s

Position and physical specification

Tube vertical rotation angle

±180°

Tube tilting angle

-30°~90°

SID

60-180cm

Tube transverse motion

72-124cm

Cantilever type

cross telescopic arm

Column rotation angle

±270°

Climbing capacity

7°(Automatic)

Dimension

127cm×67cm×184cm

Weight

530kg

Features

Motor driven

Yes

Exposure by battery power supply

Yes

Remote control exposure

Yes

Anti-collision braking

Yes

Image workstation

Monitor

19 inch touch screen, 1280×1024

Processer

Core I3 dual core processer

RAM

≥4GB

SATA

≥500GB

Operating System

windows 7

Operating software

DROC

Software function

Patient registration and data edit

Yes

Expose parameter adjustion

Yes

image view

Yes

image process and output

Yes

Data mannagement

Yes

DICOM 3.0

Yes